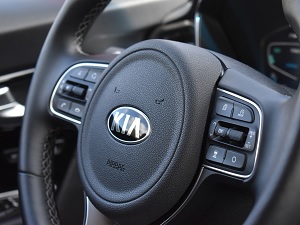 Strange things are afoot at Kia Motors America (KMA), a subsidiary of Kia Motors with more than 800 dealerships scattered across the United States.
Recently the company has reported a nationwide IT outage that is impacting their mobile UVO Link apps, phone services, the company's payment system, and a number of dealer-specific applications.
If you're trying to make a payment online, or schedule a pickup of a newly leased vehicle, that might be hard to do. For the time being, you're probably not going to be able to do that, and will encounter errors when you venture onto the company's site.
There is considerable evidence that the company has been successfully attacked by the DopplePaymer ransomware gang. This evidence includes a ransomware note naming Kia Motors' parent company as the victim, claiming that a "huge amount" of company data has been exfiltrated, and demanding a $20 million payment in Bit Coin to get their files unlocked and prevent the gang from releasing them to the public.
The ransom note contains a link to the Tor Victim page which again mentions the parent company by name. The curious thing about the incident so far, however, is the fact that when KMA was contacted for details about the incident, they released the a somewhat terse statement.
Their statement was:
"Kia Motors America, Inc. ("Kia") is currently experiencing an extended systems outage. Affected systems include the Kia Owners Portal, UVO Mobile Apps, and the Consumer Affairs Web portal. We apologize for any inconvenience to affected customers, and are working to resolve the issue as quickly as possible with minimal interruption to our business. We are also aware of online speculation that Kia is subject to a "ransomware" attack. At this time, we can confirm that we have no evidence that Kia or any Kia data is subject to a "ransomware" attack."
At this point, no one can say with 100 percent certainty what's going on, other than the fact that many of the company's systems have been offline for days. A few have begun to come back online, but at the time this article was written the story is continuing to develop and several of the company's systems are still offline. If you're a Kia owner, it pays to be aware.