Worry-Free IT Support for Rhode Island Business
Work Smarter, Not Harder
Business Is Better When IT Runs Smoothly
Rapid Response Time     |     24/7/365 Live Support     |     Increased Productivity
30%
Average Reduction in IT Costs
98.7%
Help Desk Customer Satisfaction Rating
7+ Years
Average Customer Retention Rate
Most IT support models don't work well for business.
Are you experiencing these common problems with your IT support?
Slow and unresponsive

Unexpected costs from projects and visits

Unplanned downtime resulting in unproductive staff and lost sales

Repetitive issues wasting your valuable time

Non-existent communication with technicians

Nonchalant attitude toward cyber security

Support making you feel like you are the problem

Not understanding how your business operates
Our Belief Is That Your IT Support Should Be
Built To Work With Your Business, Not Against It
Our client's comments speak to our success.
PacketLogix has given us an insightful look at the security we have in place and the policies we dictate, with complete respect for our infrastructure and what we are unable to disclose.
PacketLogix offers a wide variety of services with no pressure. They are willing to have long term or short-term relationships based on our needs, while working on a project with the solutions are presented when needed.
They are willing to hear what your concerns are and will work with you on any shortcoming whether It's for your current project or a project in the future.
Michael Oliver
CIO
Claflin Medical
Terrence Boylan, the CEO of PacketLogix, gave an outstanding presentation to our group on CyberSecurity, and it was excellent. He was an engaging, well-informed speaker who captured the crowd's attention and who was easily able to answer questions as audience members brought up concerns relating to their businesses. I would highly recommend Terrence as a speaker to anyone who wants to know more about this important topic.
Elin Barton
CEO and President
White Knight Productions
PacketLogix has been a fantastic partner in meeting our IT needs in our community clinic setting. They have presented and implemented effective IT solutions, and worked with us on a number of challenging issues. We are extremely pleased with their service and responsiveness as different issues have come up. We look forward to working with them as a long-term partner.
Dr. Philip A. Chan, MD
Medical Director
Open Door Health
It's time to move to an IT model that works with your business.
With PacketLogix You Can…
Get Your Time Back
How many times have you been in the middle of your work, making great time, and then had an error pop up bringing your work to a screeching halt? This kind of thing seems to always happen right before an important deadline.
Instead, consider this scenario. An error pops up and you have a 24/7 support number to call. Within minutes you are speaking to a knowledgeable technician who is ready to take control and resolve your issue. You are right back to your work with a smile on your face knowing you just saved valuable time and met your deadline. Get your time back with the PacketLogix team.
Increase Productivity
When your technology works for your business, it empowers you to take your business to the next level more quickly and with less effort. We want to understand your business, where you want to take it and then we can tailor your technology to help you get there. This can be the difference between your competitors beating you there or you coming out on top.
Focus On Your Business
When your IT company is proactive and aligned with your business, your time, energy, and brain power can focus on your business and taking it to amazing new heights. Let the professionals at PacketLogix take on your technology so you can focus on making your business successful.
Not Ready To Call Us Just Yet?
If so, we would at least like to give you a copy of our recently published report,
7 Urgent Security Protections Every Business Should Have
Even if you aren't ready to make a change right now, this report will give you important questions you should ask your current IT person to make sure that their policies, procedures, and service standards won't leave you vulnerable to expensive problems, lost data, viruses, hacker attacks and a host of other problems.
Simply fill out the form here and download your copy today!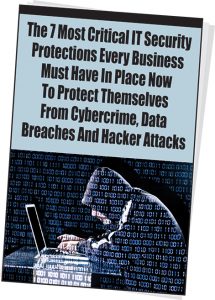 Download Your
Free Copy Now