Optimize your processes and technology so your employees can create, store and use information more effectively.
Our Rhode Island-based team works with you to develop the right output management strategy and to provide cost-effective managed services.
We can reduce your printing and copy expense by as much as 35% while improving the efficiencies and security of your document output capabilities.
Printers can be hacked just like a PC and are a major entry point for viruses and ransomware.
Printers store user credentials and sensitive data that can be accessed if not encrypted and maintained on a regular interval.
Benefits
Scan directly from copier to/from Sharepoint, OneDrive, or Outlook
Scan invoices and receipts directly into QuickBooks
Specially designed copier for the medical community that interfaces directly with most EMRs, insurance companies, and medical labs, and virtually eliminates the need for a fax.
We also offer printer fleet management, which includes toner replacement and repair service.
Scan directly into your shared drive or computer
Improve communication
Not Ready To Call Us Just Yet?
If so, we would at least like to give you a copy of our recently published report,
7 Urgent Security Protections Every Business Should Have
Even if you aren't ready to make a change right now, this report will give you important questions you should ask your current IT person to make sure that their policies, procedures, and service standards won't leave you vulnerable to expensive problems, lost data, viruses, hacker attacks and a host of other problems.
Simply fill out the form here and download your copy today!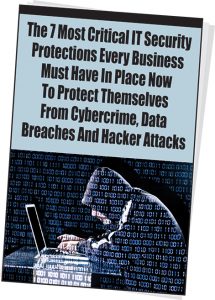 Download Your
Free Copy Now
We Deliver Excellent IT Service
Our value proposition is simple.
We proactively monitor and maintain your devices, servers, and network to secure your revenue through business continuity.