Why Is Data Backup Critical?
Protect your business by implementing a data backup  strategy that puts the necessary plan and technology in place to reduce downtime in the event a disaster strikes. Are your servers backed up? Is all your data stored on-site? Could your business weather a major equipment failure caused by a hard drive crash, flood, lightning strike, or even theft? Does all that equate to loss of revenue and productivity?
Our team of experts create detailed and appropriate strategy as well as conduct a risk assessment so that your employees can being working as soon as possible in the event of a disaster.
Benefits
Peace of mind
Team of experts in backup and disaster recovery
Protect your mission-critical data
Risk assessment
Strategy and implementation to reduce downtime
Customized strategy for your specific business
Not Ready To Call Us Just Yet?
If so, we would at least like to give you a copy of our recently published report,
7 Urgent Security Protections Every Business Should Have
Even if you aren't ready to make a change right now, this report will give you important questions you should ask your current IT person to make sure that their policies, procedures, and service standards won't leave you vulnerable to expensive problems, lost data, viruses, hacker attacks and a host of other problems.
Simply fill out the form here and download your copy today!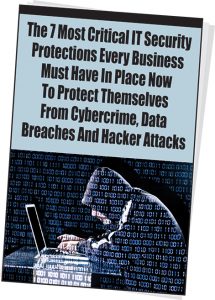 Download Your
Free Copy Now
We Deliver Excellent IT Service
Our value proposition is simple.
We proactively monitor and maintain your devices, servers, and network to secure your revenue through data backup service.