Why A Cloud-Based Infrastructure?
A cloud-based infrastructure allows you and your employees to share, edit, and publish documents in a unified system, improve communication, e-mail, increase marketing abilities, and enhance your day-to-day business processes. Getting information to and from the cloud has never been easier or more affordable. We are a Rhode Island-based cloud phone system vendor. These services are hosted by the experts at PacketLogix. You'll never have to worry about management, maintenance, or equipment that keeps them running smoothly.
A cloud-based infrastructure scales with your business, can be easily customized for your specific business needs, and is cost-effective. Better yet, using a cloud-based infrastructure means that even if disaster strikes, you can still access critical files from anywhere.
Benefits
Secure critical files
Collaboration
Increased efficiency
Business continuity
Improve communication
Never worry about management, maintenance, or equipment
Not Ready To Call Us Just Yet?
If so, we would at least like to give you a copy of our recently published report,
7 Urgent Security Protections Every Business Should Have
Even if you aren't ready to make a change right now, this report will give you important questions you should ask your current IT person to make sure that their policies, procedures, and service standards won't leave you vulnerable to expensive problems, lost data, viruses, hacker attacks and a host of other problems.
Simply fill out the form here and download your copy today!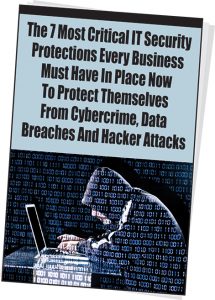 Download Your
Free Copy Now
We Deliver Excellent IT Service
Our value proposition is simple.
We proactively monitor and maintain your devices, servers, and network to secure your revenue through business continuity.