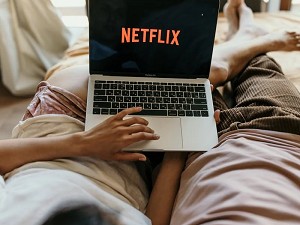 Netflix has been talking about cracking down on password sharing for years.  So far, it's been just talk. Recently, the company suffered its first decrease in subscribers in recent memory. They lost more than 200,000 in the first quarter of 2022. That is a fact which sent their stock price reeling.
According to the company's estimates, some 100 million households are currently sharing their passwords. It's a safe bet that now the company is serious about it, so you can expect the crackdown to begin pretty much any time.
It was great while it lasted but Netflix is understandably eager to monetize those accounts and it's under increasing pressure to do so.  With industry giants like Amazon Prime, Apple TV, YouTube, Disney+, Hulu, and others nipping at their heels, the company almost has to take decisive action.
Here's what the company had to say on the matter:
"Our relatively high household penetration - when including the large number of households sharing accounts - combined with competition, is creating revenue growth headwinds. The big COVID boost to streaming obscured the picture until recently.
Account sharing as a percentage of our paying membership hasn't changed much over the years, but coupled with the first factor, means it's harder to grow membership in many markets - an issue that was obscured by our COVID growth.
While we work to reaccelerate our revenue growth - through improvements to our service and more effective monetization of multi-household sharing - we'll be holding our operating margin at around 20 percent."
Interestingly, the company's lax policy with regards to account sharing likely contributed to its earlier growth.  Now the equation has changed, and the company is studying a few different approaches to help them recapture revenue lost to account sharing.
The most popular idea to date was "Paid Account Sharing."  They charged a nominal fee that's still less than a full monthly membership, so that at least they're getting something from it.
That approach is likely so sufficiently light handed that the company's massive user base won't rebel, and it may prove to be an acceptable middle ground for everyone.  Time will tell.