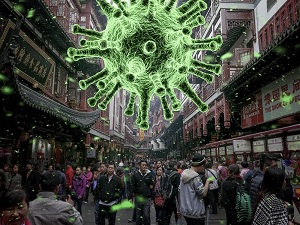 There is no low that hackers and scammers won't stoop to.
The US Federal Trade Commission (FTC) has issued a warning about a worldwide scam in progress relating to fears surrounding the CoronaVirus. The FTC's announcement speaks for itself.
Their announcement reads, in part:
"Scammers are taking advantage of fears surrounding the Coronavirus. They're setting up websites to sell bogus products, and using fake emails, texts and social media posts as a ruse to take your money and get your personal information.
The emails and posts may be promoting awareness and prevention tips, and fake information about cases in your neighborhood. They also may be asking you to donate to victims, offering advice on unproven treatments, or contain malicious email attachments."
Even worse, it appears that there are multiple campaigns like this, running in tandem.
Francis Gaffney is the Director of Threat Intelligence for Minecast, which is one of several companies tracking the issue.
Francis added this:
"The sole intention of these threat actors is to play on the public's genuine fear to increase the likelihood of users clicking on an attachment or link delivered in a malicious communication to cause infection, or for monetary gain."
In short, this is about as despicable as it gets. Then again, hackers and scammers have been known to send emails targeting children, so it shouldn't come as a great surprise.
Even so, the standard precautions apply here. Unless you know and trust the sender of a communication, even if it's about something scary and important like the CoronaVirus, don't click on links or open attachments. You never know where it might take you or what type of malware might end up on your system. Better safe than sorry, and you can always get CoronaVirus information from official sources.